IN ITS INTERNATIONAL Agricultural Trade Report released this week, USDA has confirmed that Australia, India, and Canada are the world's three largest chickpea exporters, and accounted for more than 40 percent of the world's shipments in 2022.
The agency has highlighted the impact of Indian policy and tariffs on global chickpea trade, with India's domestic production being the world's largest at 11.9 million tonnes (Mt) in 2021, more than double the figure produced in 2012.
The report values India's 2022 imports at US $50M, down from the record $1.3 billion in 2017, with Tanzania providing 90pc of India's 2022 chickpea import requirements.
The Foreign Agriculture Service report acknowledges Australia's record chickpea production of more than 2Mt in 2016-17, when 62 percent of its chickpea exports went to India.
"Exports fell drastically to less than 1pc after India applied tariffs to limit imports," the report said.
"This blow to the Australian chickpea sector emphasised the importance of diversifying export markets.
"Australia continues to be the largest exporter with approximately one-third of the global exports spanning the past 10 years.
In 2022, Bangladesh and Pakistan accounted for nearly 80pc of Australia's chickpeas exports.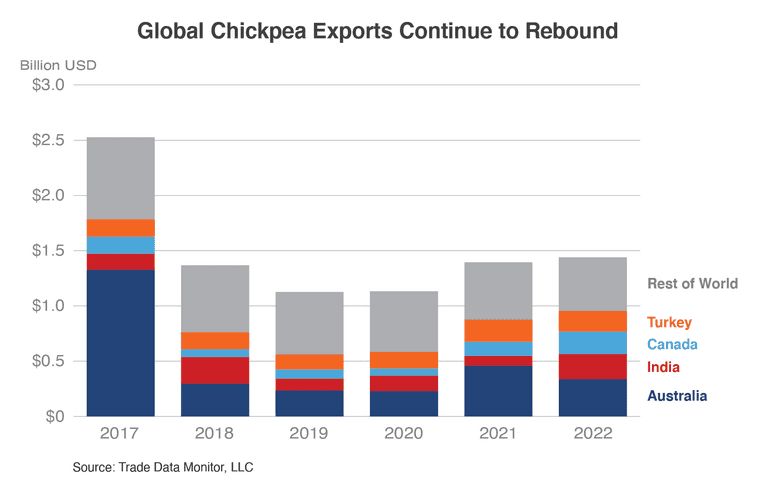 Changes in North America
Indian Government policy has also had an impact on US chickpea exports.
"In 2019, India imposed retaliatory tariffs on 28 US products including chickpeas, levying additional duties on chickpeas in response to Section 232 National Security Measures on Steel and Aluminum and the termination of India's Generalized System of Preferences status.
"The 10pc retaliatory tariff resulted in US chickpea exports, valued at $6.4M, coming to a halt by 2022.
"Fortunately, India's retaliatory tariffs were repealed for chickpeas in late September 2023.
"The US market share was 4pc before 2019."
"India exports have been trending up and doubled last year to total $226M in 2022, with increased exports to the United Arab Emirates and Iran."
Canadian production hit 214,000t in 2020 before falling to 76,000t in 2021 due to lower area and yields.
Canada's top three chickpea markets are Pakistan, the US, and the European Union, which account for more than half its exports.
Canada also imports chickpeas, with the US and Australia its primary suppliers.
US chickpea imports have more than doubled during the past 10 years to a record $69M in 2022, with more than half the total coming from Canada.
Chickpea production in the US increased from 161,000t in 2012 to a peak of 580,000t in 2018, following record high exports to the EU and India in 2017, but in 2022 dropped back down to 166,000t with the subsequent decline in exports.
"US chickpea exports grew from $52M in 2013 to total $169M in 2017 but declined to $67M by 2022 in part due to drastically reduced shipments to India."
Canada on $20M, the EU on $15M, and Pakistan on $8M were the three major markets for US chickpea exports in 2022, accounting for two-thirds of shipments.
"Exports in 2022 were down more than 20pc from the year before due to lower exports to Pakistan as Pakistan imported more from Australia."
Solid demand from Turkey, Pakistan, Bangladesh
Turkey's chickpea production has averaged more than 520,000t in the past decade, during which time its exports have more than doubled.
Turkey accounted for 9pc of global imports in 2022, when Mexico and Russia accounted for nearly two-thirds of the total, down 7pc from the year before on lower shipments from both suppliers.
Pakistan's production has plunged from 751,000t in 2013 to 234,000t in 2021.
"During the same period, imports surged from $40M in 2013 to $262M in 2022 due to strong domestic demand and lower production.
"Australia is the largest supplier with nearly half of the trade followed by Canada and Russia, accounting for an additional 30pc."
Bangladesh's production dropped from 7000t in 2012 to 5000t in 2021, and its imports have averaged roughly 225,000t per annum during the past 10 years.
Bangladeshi imports dropped by one-third in 2022 because of lower sales from Australia as a supplier of more than 90pc of its demand.
Production of chickpeas in the EU dropped from 38,000t in 2012 to 3200 tons in 2022 due to a drop in area harvested since 2018.
The EU was the world's third-largest importer in 2022, with Mexico and Turkey accounting for more than 45pc of the trade.
EU imports in 2022 were up by nearly a third from 2021 because of increased volume from Argentina, Canada, and Russia.
Fuente: GRAINCENTRAL